2019-08-27 16:18:06
Featured Artist at Weicherts and Clarks
Featured Artist Bonita Cole at Clark's Bistro; Musical Entertainment by The Dusty Boys
Bonita Cole will be the featured at Clark's Bistro and Pub, 246 E. Main St. with an opening reception on Sept. 3 from 5 p.m. – 8 p.m. Musical entertainment for the reception will be The Dusty Boys
The artist grew up on a dairy farm in New Jersey but gained her rich renaissance education at a boarding school. She completed her first oil painting at 11 and went on to complete her education in art accomplishing a fine arts degree. Following college, she lived a successful, colorful life resulting in her life imploding and a move to Washington state. She moved several times until she found the right art community to help her flourish again.
Overcoming a terminal cancer, a bankruptcy and divorce she moved to rural Alaska where she regained her health and stamina. Returning to Portland she plunged into painting with acrylics and is painting with renewed urgency currently painting about 12 hours daily resulting in showing in several regional galleries and local wine tasting rooms.
******************************************
Musical entertainment for the opening reception is The Dusty Boys who love to play classic country songs. Walt, Terry and Price bring new energy and humor to numbers by Johnny Cash, Hank Williams and more. They also pull out 50s hits by Elvis, the Everly Brothers and others from that era.
Judith Shortt, realtor for the Phoenix Realty Group, located downtown Hillsboro, will host this event. Plan your Art Walk journey to include Clark's Bistro & Pub when you come to downtown Hillsboro, which has become the art destination in northwest Oregon.
Featured Artists Phyllis Jean Fulton and Alan Archer at Weicherts; Musical Entertainment by the band Martinazzi
There will be a duo team of featured artists for September: Phyllis Jean Fulton and Alan Archer at Weicherts RE, 231 E. Main St. with an opening reception on Sept. 3 from 5 p.m. – 8 p.m. Musical entertainment for the reception will be the band Martinazzi.
The artists are showing two completely different types of art; Fulton has been working with "eco-printing," a process of using local plant foliage to create dyes and making monoprints through pressing and steaming and boiling, etc. She has been creating wall hangings as well as small journal-type books and another wall display.
Archer was inspired for his artwork by a recent trip coming back from San Diego driving up the eastern side of the state where the Sierra Nevada range was in full view in all its splendor. He created a few impressionistic style acrylic paintings.
Returning home, another inspiration came to him. After having been crystal mining in SoCal, he took some photos of extreme close-ups of some of his rocks because they seemed to mimic the shape of the mountains he just saw. He then took some 60X magnification pictures and printed them on canvas paper using a laser color printer and displayed in a matted paper frame.
*************************************
Martinazzi, a three-piece band will be playing Indie-Punk type music, on the order of Brand New and Green Day.
Don't forget to check out the interesting display of Rice NW Museum of Rocks and Minerals in the back of the room. And you can pick up your own free sample while you ask your questions.
Besides all that the reception will include free snacks, sodas and wine as well as visiting with your neighbors and talking to the artists who created this unique art. This is an Art Walk you won't want to miss.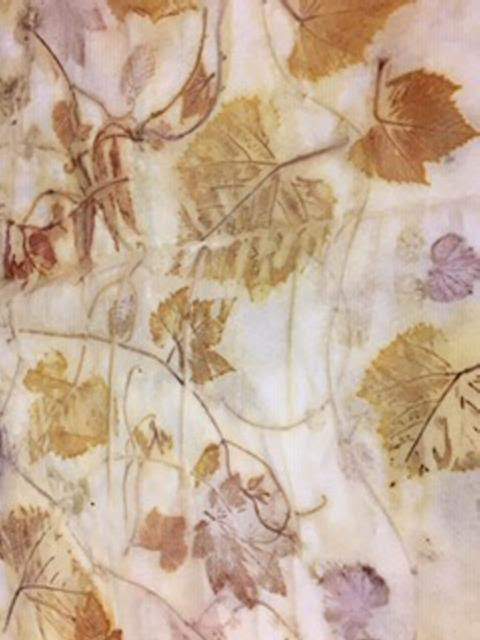 Artwork by Phyllis Jean Fulton
Hillsboro Art Walk is on First Tuesday, September 3; 5:00 until 8:00
This information is brought to you by Linda Holland
For more information go to: Hillsboroartwalk.com

Subscribe to RSS Feed
Blog Archive
2019-08-27 16:18:06
Featured Artist at Weicherts and Clarks
2019-07-31 15:21:25
Tuesday Artwalk August
2019-06-28 10:05:45
First Tuesday in July
2019-05-06 09:58:46
Mike Kunka Artist at Weicherts; Chris Goldthorpe and Tony Smith at Clark's
2019-03-27 17:38:04
Featured Artists at Weicherts and Clark's for April Art Walk
2019-02-27 09:56:56
!st Tuesday in March March Art Walk
2019-01-07 10:58:42
January Art Walk
2018-11-26 11:03:58
Art Walk in downtown Hillsboro for December
2018-11-01 16:18:18
First Tuesday Art Walk for November
2018-10-01 10:32:24
October Art Walk Featuring Alan Archer at Clark's and Linda Holland at Weicherts
2018-08-23 13:34:33
Jean Fulton, DeLacy Jappe Featured Artists Art Walk -- Randy Morrison, Kevin Harding Musicians
2018-06-27 14:42:27
Baby Dragon
2018-04-30 11:48:13
Phonkadelic 1st Tuesday in May
2018-03-29 13:22:52
April Art Walk
2018-01-31 12:00:33
Nick Marking at Clark's Bistro; Jeff Hall at Weicherts for February Art Walk, Feb. 6
2017-12-01 11:54:24
Christmas Art Sale at Weichert! Nothing over $100
2017-11-07 11:25:27
Jackie Woodward shows exotic animal paintings in November
2017-10-03 11:39:16
Art by Christina Massacco Feat music by Dennis Morehouse
2017-09-05 11:45:47
September brings new art by Martin Conley
2017-07-31 19:29:20
New summer artwork is here!
2017-06-01 12:20:36
Weicherts Features Artist Kassius Wilson for June
2017-04-25 11:37:30
Jullane Rich Featured Artist for May!
2017-04-03 12:06:20
Weichert SPRINGS into new Art for April!
2017-03-07 14:37:55
Please welcome Aesch Lengstorf for March
2017-02-02 11:47:13
Weicherts Features Madisella Gonzalez For February
Click here to see ALL articles.