2019-07-31 15:21:25
Tuesday Artwalk August
Yesi Casanova Featured Artist at Clark's Bistro; Rodney Stubbs provides the music
Yesie Casanova will be the featured at Clark's Bistro and Pub, 246 E. Main St. with an opening reception on August 6 from 5 p.m. – 8 p.m. Music for the reception will be singer/guitarist Rodney Stubbs
The artist started painting at a young age and said her mother had a big influence on her. She exposed her to fine art and decorated their home (in Venezuela where she was born and raised) with prints of masterpieces while taking her to art museums. When she grew up she had a period when she quit painting. After a few years of not painting (thinking it wasn't a career choice) when she picked up a brush again she felt "alive" and happy again. It all came back: the feeling of joy of painting, back to what she is passionate about.
Casanova thinks her love and passion for painting shows in her art. She puts all she is feeling at the moment and because she is so in tune with her work and her soul, she believes it shows. She said, "My art has a part of me and my passionate self shows through my paintings."
Musical entertainment for the opening reception will be Rodney Stubbs singing and playing the guitar. He will have you remembering songs you forgot to remember and pretty soon you will be waiting for the next one. Then you'll be tapping your toe, then maybe dancing a little. Then you will be all in jumping up and dancing and clapping and singing along -- And asking for more. He gets you like that.
Judith Shortt, realtor for the Phoenix Realty Group, located downtown Hillsboro, will host this event. Plan your Art Walk journey to include Clark's Bistro & Pub when you come to downtown Hillsboro, which has become the art destination in northwest Oregon.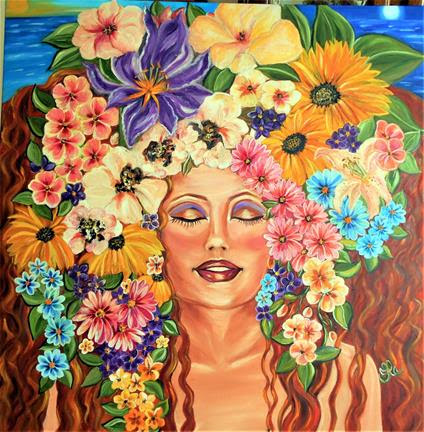 The Goddess Freya by Yesi Casanova
Alan Scally Featured Artist at Weicherts; Music by Stefan Street Musicians
Alan Scally will be the featured artist at Weicherts RE, 231 E. Main St. with an opening reception on Aug. 6 from 5 p.m. -- 8 p.m. Musical Entertainment for the reception will be the Stefan Street Musicians.
The artist is a first generation American; his parents and two brothers emigrated from Scotland but he grew up in the Portland area. Having graduated from Aloha High School he has roots in the Aloha/Hillsboro area. He also lived in Chicago; earned a law degree from Lewis & Clark Law School but never practiced law.
Scally began seriously with his art in 2006 with his first showing in Dec., 2012. He had dabbled in art for years, being a self-taught artist with his influences the Impressionists, Andy Warhol, and the art of the Renaissance. He calls his art style Exploratory Abstractionism as it involves an exploration of the possibilities inherent in the medium he's work.
The Stefan Street Musicians
Entertaining at the opening reception, The Stefan Street Musicians their music as Punk Grass but that varies depending on the instruments they are playing. On guitar its more blues/ jazz/ rock influenced; on ukulele, more poppy and on banjo and mandolin, the Punk Grass label fits.
Besides music the reception will include free snacks, sodas and wine as well as visiting with the artist while viewing his art. This an Art Walk you won't want to miss.
Hillsboro Art Walk Gets Organized
There is an Art Walk committee working hard at re-organizing Art Walk so more people know what is happening and how they may participate. The website is looking good but not quite ready for launching yet. You will be impressed. Stay tuned. By First Tuesday September it should be up and running. You'll love it!

Subscribe to RSS Feed
Blog Archive
2019-09-23 13:25:45
October 1st Tuesday
2019-08-27 16:18:06
Featured Artist at Weicherts and Clarks
2019-07-31 15:21:25
Tuesday Artwalk August
2019-06-28 10:05:45
First Tuesday in July
2019-05-06 09:58:46
Mike Kunka Artist at Weicherts; Chris Goldthorpe and Tony Smith at Clark's
2019-03-27 17:38:04
Featured Artists at Weicherts and Clark's for April Art Walk
2019-02-27 09:56:56
!st Tuesday in March March Art Walk
2019-01-07 10:58:42
January Art Walk
2018-11-26 11:03:58
Art Walk in downtown Hillsboro for December
2018-11-01 16:18:18
First Tuesday Art Walk for November
2018-10-01 10:32:24
October Art Walk Featuring Alan Archer at Clark's and Linda Holland at Weicherts
2018-08-23 13:34:33
Jean Fulton, DeLacy Jappe Featured Artists Art Walk -- Randy Morrison, Kevin Harding Musicians
2018-06-27 14:42:27
Baby Dragon
2018-04-30 11:48:13
Phonkadelic 1st Tuesday in May
2018-03-29 13:22:52
April Art Walk
2018-01-31 12:00:33
Nick Marking at Clark's Bistro; Jeff Hall at Weicherts for February Art Walk, Feb. 6
2017-12-01 11:54:24
Christmas Art Sale at Weichert! Nothing over $100
2017-11-07 11:25:27
Jackie Woodward shows exotic animal paintings in November
2017-10-03 11:39:16
Art by Christina Massacco Feat music by Dennis Morehouse
2017-09-05 11:45:47
September brings new art by Martin Conley
2017-07-31 19:29:20
New summer artwork is here!
2017-06-01 12:20:36
Weicherts Features Artist Kassius Wilson for June
2017-04-25 11:37:30
Jullane Rich Featured Artist for May!
2017-04-03 12:06:20
Weichert SPRINGS into new Art for April!
2017-03-07 14:37:55
Please welcome Aesch Lengstorf for March
Click here to see ALL articles.