2018-04-30 11:48:13
Phonkadelic 1st Tuesday in May
Featured Artist at Clark's Linda Holland; Music by Elijah Vanacek
Usually Linda Holland is arranging artists to show their artwork but this time she is showing her own watercolor paintings at Clark's, 264 E. Main at 6pm -- 8pm on First Tuesday, May 1. The opening reception will have free wine and samples of Clark's sumptuous sandwiches as well as musical entertainment by Elijah Vanacek. That's a duo called Quartet with him and Justin Clark playing acoustic rock.
Linda Holland had a career in publishing and graphic arts and turned her business over to her daughter and son when she retired thus immersing herself in the arts. Joining local art groups in Hillsboro and becoming involved in local art and culture discussions, she eventually found her home by forming a non-profit artists' group, Tualatin Valley Artists, and becoming involved in the art side of Influence Gallery in Hillsboro in 2007.
Watercolor is Holland's medium of choice and she paints as often as she can while balancing other volunteer activities. She just finished three years on the board of Tuesday Night Market where she supervised the art projects of the ceiling tiles in Influence Music Hall; the Frida Project at M&M Marketplace and last summer the Hillsboro Happy Days Mural on the side of the wall of Joe's Pastime Bar by the vacant lot on Main Street.
Yearround she runs a business advocating for artists and musicians called Linda's List. She arranges to show artists' artwork at Weicherts Realty and Clark's Bistro. With Holland's connections artists are able to show and sell their art and have a gallery experience without the expense. Over 30 years' experience painting, Holland's watercolor artwork gained popularity with a series of dragon and baby paintings and she then went on to portraitures and kindred depictions. But throughout the periods of painting different subjects she continued painting vivid florals. "Painting flowers soothes my soul," she concluded. Originally from Montana, she moved to Oregon 30 years ago. Hillsboro has been her home since then and art has always been a part of her life.
Phonkadelic Featured Artist at Weicherts; Music by Kirk Larson
Featured artist at Weicherts, 231 E. Main St., Hillsboro, for the month of May is Phonkadelic. You can see his artwork at an opening reception held on First Tuesday, May 1 at 6:00 p.m. until 8:00 p.m. There will be hor d'ouervres and wine as well as music by the Koin Klub band.
Phonkadelic is an emerging artist who uses a variety of mediums to spread his art within different local communities of expression. Most of his work comes from the exploration of process. Rather than intending to represent one specific aspect or intention, he intends on inviting each viewer to a different perspective of what each piece represents.
With his roots in the underground art community, there is a layer of identity and anonymity throughout his overall catalog of art. With a strong push on the "art for art sake" mentality and an attitude that encourages the D.I.Y. aspect of things, his work is represented separate from himself in the public so that the focus is on each piece of art rather than the artist.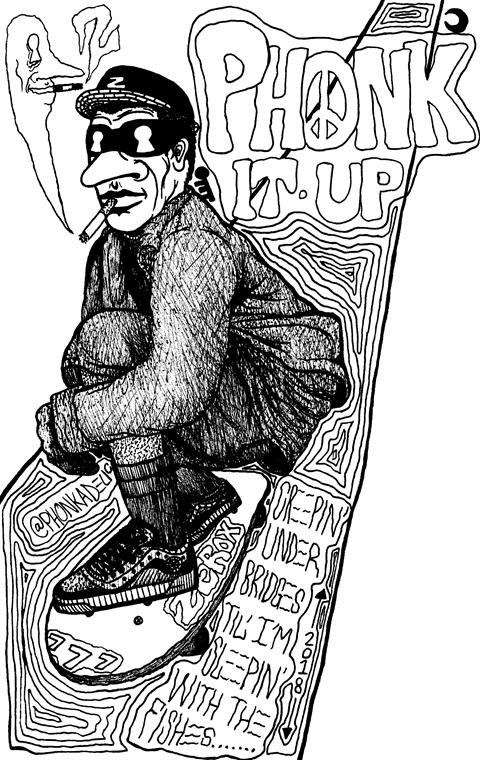 Come to First

Tuesday, May 1
There are many other businesses showing art and providing snack and wine plus entertaining with live local music. Don't miss this fun, community activity. See you there!
Click here to

Reply

or

Forward

Subscribe to RSS Feed
Blog Archive
2019-03-27 17:38:04
Featured Artists at Weicherts and Clark's for April Art Walk
2019-02-27 09:56:56
!st Tuesday in March March Art Walk
2019-01-07 10:58:42
January Art Walk
2018-11-26 11:03:58
Art Walk in downtown Hillsboro for December
2018-11-01 16:18:18
First Tuesday Art Walk for November
2018-10-01 10:32:24
October Art Walk Featuring Alan Archer at Clark's and Linda Holland at Weicherts
2018-08-23 13:34:33
Jean Fulton, DeLacy Jappe Featured Artists Art Walk -- Randy Morrison, Kevin Harding Musicians
2018-06-27 14:42:27
Baby Dragon
2018-04-30 11:48:13
Phonkadelic 1st Tuesday in May
2018-03-29 13:22:52
April Art Walk
2018-01-31 12:00:33
Nick Marking at Clark's Bistro; Jeff Hall at Weicherts for February Art Walk, Feb. 6
2017-12-01 11:54:24
Christmas Art Sale at Weichert! Nothing over $100
2017-11-07 11:25:27
Jackie Woodward shows exotic animal paintings in November
2017-10-03 11:39:16
Art by Christina Massacco Feat music by Dennis Morehouse
2017-09-05 11:45:47
September brings new art by Martin Conley
2017-07-31 19:29:20
New summer artwork is here!
2017-06-01 12:20:36
Weicherts Features Artist Kassius Wilson for June
2017-04-25 11:37:30
Jullane Rich Featured Artist for May!
2017-04-03 12:06:20
Weichert SPRINGS into new Art for April!
2017-03-07 14:37:55
Please welcome Aesch Lengstorf for March
2017-02-02 11:47:13
Weicherts Features Madisella Gonzalez For February
2017-01-02 17:36:52
New Year, New Artist!
2016-12-05 13:40:02
December Welcomes Artist Kristina Koenig
2016-10-28 11:17:12
November features artist Linda Holland !
2016-10-04 11:24:12
October brings art from our very own Jason Elstrot
Click here to see ALL articles.