2018-03-29 13:22:52
April Art Walk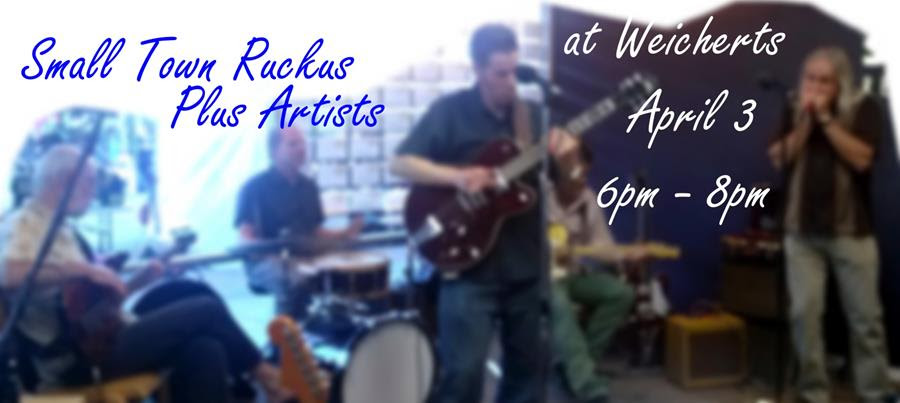 Special Double Artists Showing at Weicherts;
Music by Small Town Ruckus Band
For the Month of April at Weicherts two artists will share the space with completely different mediums and looks: JanSu Hirst and Price Luber. Both of them are also musicians but their artwork will steal the show. You can see their artwork at the opening reception held on First Tuesday, April 3 at 6:00 p.m. until 8:00 p.m. There will be hor d'ouervres and wine as well as musical entertainment.
Price Luber's dark and atmospheric photography shows the striking lines, angles and shadows that often escape our everyday notice. Shooting primarily in black and white, he captures unusual perspectives and light patterns of buildings, environments and the human figure.
JanSu Hirst's artwork, on the other hand, is full of color as she experiments with acrylic pours. So many colors, in fact, you will see explosions of color. This is what happens when you mix different ingredients into the paints to get them to react against each other. Then she decides how to use this wild painting technique to actually form pictures.
Price works with vintage Russian and German film cameras as well as selected digital equipment. Apart from minimal adjustments to brightness and composition, his photographs come unedited and straight from the camera. His work has twice won awards at shows in Portland, and he is currently exhibiting for the fourth time in Northwest Oregon.
Hirst showing her acrylic pour paintings says this is a new painting adventure for her and you will discover what she has learned just two months later. She loves the surprises she discovered and unusual results.
Besides all this creativity in their artwork, both artists will take part in the music with the band playing, Small Town Ruckus. Zbone, the leader of the band will let them join the band and play a few tunes. Sounds like lots of fun for all.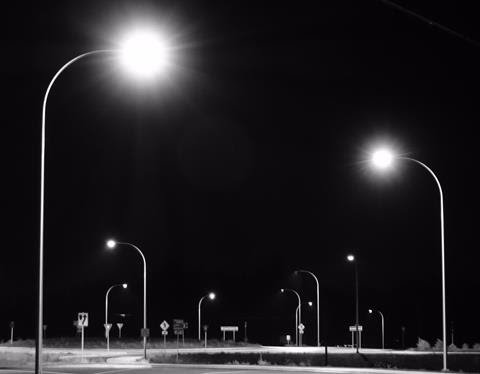 Jackson School Road Flash by Price Luber.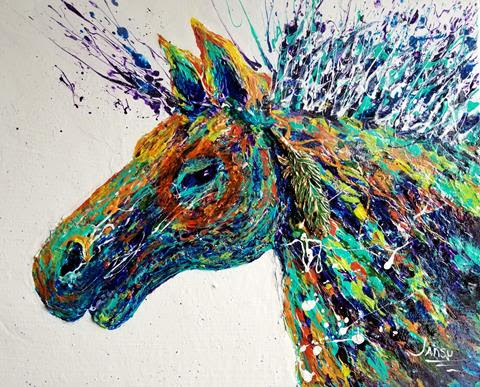 Alan Scally Featured Artist at Clark's Bistro; Music by Steve Griffiths for Opening Reception
Featured for the month of April is artist Alan Scally. Opening reception will be held on First Tuesday, April 3at Clark's Bistro, 464 E. Main St., Hillsboro, 6:00 p.m. until 8:00 p.m. There will be hor d'ourvres and wine as well as musical entertainment by Steve Griffiths.
Alan Scally, a first generation American, whose family emigrated from Scotland to the Pacific Northwest, was raised in the country near Gresham, before moving to Aloha and currently lives in SE Portland.
A self-taught artist, Scally has shown his work in venues ranging from brew pubs to a tattoo parlor. His style is called exploratory abstractionism with major influences being Andy Warhol, Picasso, Rembrandt and the Impressionists. But first he earned a law degree from Lewis & Clark Law School in 2003; although he never practiced law, he has worked extensively in the legal field.
Music for the reception will be the famous Steve Griffiths, whose music is inspired by Gary Moore, Peter Green and Wishbone Ash. He plays guitar and bass at local jam sessions in the Portland area, where he lives and records in his home studio.
Before that, however, he spent about 20 years dating to the mid-70s when he worked as part of the Deep Purple sound crew through a major sound company as well as with many other top bands including Kiss, Poison, Warrant, Cinderella and especially Blue Oyster Cult.
So this is one show you are not going to want to miss, double talent with Alan Scally and Steve Griffiths. The reception in Clark's is hosted by Judith Shortt, owner/realtor of the Phoenix Realty Group, with wine and samples of Clark's menu.
Danced Like They Meant It, by Alan Scally

Subscribe to RSS Feed
Blog Archive
2019-09-23 13:25:45
October 1st Tuesday
2019-08-27 16:18:06
Featured Artist at Weicherts and Clarks
2019-07-31 15:21:25
Tuesday Artwalk August
2019-06-28 10:05:45
First Tuesday in July
2019-05-06 09:58:46
Mike Kunka Artist at Weicherts; Chris Goldthorpe and Tony Smith at Clark's
2019-03-27 17:38:04
Featured Artists at Weicherts and Clark's for April Art Walk
2019-02-27 09:56:56
!st Tuesday in March March Art Walk
2019-01-07 10:58:42
January Art Walk
2018-11-26 11:03:58
Art Walk in downtown Hillsboro for December
2018-11-01 16:18:18
First Tuesday Art Walk for November
2018-10-01 10:32:24
October Art Walk Featuring Alan Archer at Clark's and Linda Holland at Weicherts
2018-08-23 13:34:33
Jean Fulton, DeLacy Jappe Featured Artists Art Walk -- Randy Morrison, Kevin Harding Musicians
2018-06-27 14:42:27
Baby Dragon
2018-04-30 11:48:13
Phonkadelic 1st Tuesday in May
2018-03-29 13:22:52
April Art Walk
2018-01-31 12:00:33
Nick Marking at Clark's Bistro; Jeff Hall at Weicherts for February Art Walk, Feb. 6
2017-12-01 11:54:24
Christmas Art Sale at Weichert! Nothing over $100
2017-11-07 11:25:27
Jackie Woodward shows exotic animal paintings in November
2017-10-03 11:39:16
Art by Christina Massacco Feat music by Dennis Morehouse
2017-09-05 11:45:47
September brings new art by Martin Conley
2017-07-31 19:29:20
New summer artwork is here!
2017-06-01 12:20:36
Weicherts Features Artist Kassius Wilson for June
2017-04-25 11:37:30
Jullane Rich Featured Artist for May!
2017-04-03 12:06:20
Weichert SPRINGS into new Art for April!
2017-03-07 14:37:55
Please welcome Aesch Lengstorf for March
Click here to see ALL articles.